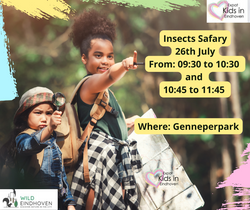 Silvia Ardila Love by Grace
Insect Safari
Expat Kids in Eindhoven with Wild Eindhoven brings to you Insect Safari
"Bug Safari" in the open air. Here our participants together with their families will live a challenging outdoor experience. Each family receives a card with different animals they can find (e.g. for insects: butterflies, bees, beetles, grasshoppers, etc.), our Wild Eindhoven leader will explain to them where to look and/or how to look, and then they all go on the search together.
We will have two groups at different times
09:30 to 10:30 am (Toddlers from 3 to 6 years old)
10:45 to 11:45 am ( Children from 7 to 12 years old)
All participants will receive a bag full of the items they will use and some surprises :)
Each child will be accompanied by a parent or guardian.